Overview
Plantar fasciitis is a very common condition resulting in pain under the heel which often radiates into the foot. We explain free of charge everything you need to know to cure your pain and prevent it from returning.
Causes
You are more likely to develop plantar fasciitis if you are Active, sports that place excessive stress on the heel bone and attached tissue, especially if you have tight calf muscles or a stiff ankle from a previous ankle sprain, which limits ankle movement eg. Running, ballet dancing and aerobics. Overweight. Carrying around extra weight increases the strain and stress on your plantar fascia. Pregnant. The weight gain and swelling associated with pregnancy can cause ligaments to become more relaxed, which can lead to mechanical problems and inflammation. On your feet. Having a job that requires a lot of walking or standing on hard surfaces ie factory workers, teachers and waitresses. Flat Feet or High Foot Arches. Changes in the arch of your foot changes the shock absorption ability and can stretch and strain the plantar fascia, which then has to absorb the additional force. Middle-Aged or Older. With ageing the arch of your foot may begin to sag - putting extra stress on the plantar fascia. Wearing shoes with poor support. Weak Foot Arch Muscles. Muscle fatigue allows your plantar fascia to overstress and cause injury. Arthritis. Some types of arthritis can cause inflammation in the tendons in the bottom of your foot, which may lead to plantar fasciitis. Diabetes. Although doctors don't know why, plantar fasciitis occurs more often in people with diabetes.
Symptoms
The pain is more intense with your first steps out of bed in the morning or after sitting for a while. The reason for this is that during rest our muscles and ligaments tend to shorten and tighten up. The tightening of the plantar fascia means more traction on the ligament making the tissue even more sensitive. With sudden weight-bearing the tissue is being traumatised, resulting in a stabbing pain. After walking around for a while the ligament warms up, becomes a little bit more flexible and adapts itself, making the pain go way entirely or becoming more of a dull ache. However, after walking a long distance or standing for hours the pain will come back again. To prevent the sudden sharp pain in the morning or after sitting, it is important to give the feet a little warm-up first with some simple exercises. Also, any barefoot walking should be avoided, especially first thing in the morning, as this will damage to the plantar fascia tissue. Aparty from pain in the heel or symptoms may include a mild swelling under the heel. In addition, heel pain is often associated with tightness in the calf muscles. Tight calf muscles are a major contributing factor to Plantar Fasciitis.
Diagnosis
After you describe your symptoms and discuss your concerns, your doctor will examine your foot. Your doctor will look for these signs. A high arch, an area of maximum tenderness on the bottom of your foot, just in front of your heel bone. Pain that gets worse when you flex your foot and the doctor pushes on the plantar fascia. The pain improves when you point your toes down. Limited "up" motion of your ankle. Your doctor may order imaging tests to help make sure your heel pain is caused by plantar fasciitis and not another problem. X-rays provide clear images of bones. They are useful in ruling out other causes of heel pain, such as fractures or arthritis. Heel spurs can be seen on an x-ray. Other imaging tests, such as magnetic resonance imaging (MRI) and ultrasound, are not routinely used to diagnose plantar fasciitis. They are rarely ordered. An MRI scan may be used if the heel pain is not relieved by initial treatment methods.
Non Surgical Treatment
Cut back on walking, running or athletic weight bearing activities. Try the recommended stretches above. Shoes with a good arch support and heel cushioning or over-the-counter orthotics may help. Icing the area of pain or taking a short course of anti-inflammatory medications such as ibuprofen or acetaminophen will help with pain. If treatments do not help, a doctor can suggest other options.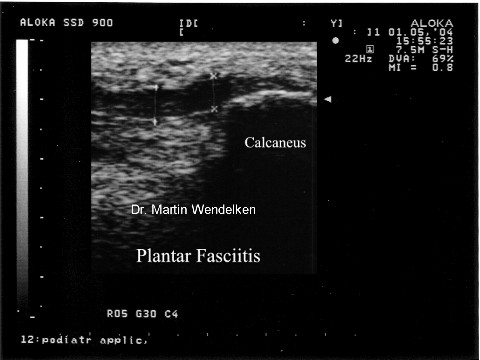 Surgical Treatment
In unusual cases, surgical intervention is necessary for relief of pain. These should only be employed after non-surgical efforts have been used without relief. Generally, such surgical procedures may be completed on an outpatient basis in less than one hour, using local anesthesia or minimal sedation administrated by a trained anesthesiologist. In such cases, the surgeon may remove or release the injured and inflamed fascia, after a small incision is made in the heel. A surgical procedure may also be undertaken to remove bone spurs, sometimes as part of the same surgery addressing the damaged tissue. A cast may be used to immobilize the foot following surgery and crutches provided in order to allow greater mobility while keeping weight off the recovering foot during healing. After removal of the cast, several weeks of physical therapy can be used to speed recovery, reduce swelling and restore flexibility.